How to Start a Successful Blog in 2020 (Top 20 Start Blogging Tips for Beginners) - Are you thinking to be a blogger? .Trying to gain your blog online? .Blogging is a platform, which has given you a chance to unroll your passion into your career. You have the freedom to be a publisher, be it you want to entertain others or give useful tips from your inner skills. However, like any other platform, becoming a successful writer, needs patience, hard work, and strong determination. Apart from being a skilled writer, you also need to know the tact of reaching your audience.
My readers about uncertainties in blogging career have often questioned me. "Can I really become rich by blogging", "Does blogging really work?", "Can I make a living by blogging?" are the most common queries which people specifically newbies ask me. Well, I always tell my readers to ask your inner self, before choosing blogging as your career. Honestly, if you ask me whether blogging works or not; my answer is, blogging only works, if you want it to work. I have seen many bloggers who make a decent living by being a blogger, whereas in contrast, many who are not even able to make a penny out of blogging.
Sometimes new bloggers get confused by their fellow bloggers, when a person wants to start a blog, most of the time inspiration comes from the earnings of Pro Bloggers. Its true bloggers can inspire anyone within a few minutes to start a blog, but starting a blog doesn't mean that you will earn.
There is a thin line of difference between successful and unsuccessful blogging and that is your intention. I utterly believe that the main reason behind a failed blog is how you have perceived it. If you started blogging by mirroring yourself in the shoes of others, with an intention that, you will be rich overnight, and then it is your fault. On the flip side, if you have started blogging out of your passion and money is your second priority, then you are on the right track. I am writing some of the important tips if you are a newbie and thinking to be a blogger. You should consider these steps to avoid some common mistakes, which most of the newbies tend to make.
To be successful as a blogger there is really just one requirement: a passion for your topic.
At its heart, blogging is about sharing your knowledge with the world. Choosing a topic that you are passionate about makes the process of starting a successful blog so much easier. Writing about more than one topic is totally fine too. As long as you are writing about things that you are genuinely interested in, your passion will shine through and keep your readers interested.

So why would you go to the trouble of blogging? There are a few reasons:
Make money from home. Blogging can be quite lucrative if done correctly. The top bloggers in the world obviously earn quite a bit, but even a part-time blogger can expect to make a nice profit if things are done correctly. The best part about it is that blogging is a form of passive income, since you can spend just a few hours a week writing a blog post and then continue to make money from it long after the blog post is written. I go into much more detail on how to blog for money later in this guide.


Share your story. A blog allows you to have a voice and be heard. You can share your story with the entire world if you so choose. One of the most common ways blogs are used are as a diary where the blogger writes about their daily experiences so that friends, family, and others can all be a part of their lives.


Recognition for yourself or your business. No, you probably won't have paparazzi following you around because of your latest blog post. But a successful blog makes your idea into a reality, and can gain you a ton of recognition in your respective field. Many bloggers are known as experts just because of their blogs, and some have even gotten book and movie deals based on their blogs.
Find a community. Blogging at its heart is interactive. You write a blog post and people comment on it. This is a great way to connect with people who are interested in the same things as you are. Blogging allows you to teach these people based on your experience, and it gives you the opportunity to learn from your readers as well.

The good news is that the internet is exploding with growth right now. More people than ever are online. This explosion in growth means more potential readers for your blog. In short, if you are thinking about starting a blog then there is no better time than right now.

So, just how do you start a blog?



How to Start a Blog in 6 Steps
Learn how to create a blog in about 20 minutes following these steps:
Step 1: Pick a blog name
The first step to finding a good blog name is choosing your topic.

If you're not sure what to blog about, there are a few ways to find a good blog topic:
Hobbies & passions. Hobbies or other interests you are passionate about are a great place to start. Cooking, travel, fashion, sports, and cars are all classic examples. But even blogs about more obscure hobbies can be successful, since the your audience is literally anyone in the world with the internet.
Life experiences. Everyone has lessons they have learned through life experience. Sharing this knowledge can be incredibly helpful to others in similar situations. For example, I recently helped a woman start her blog about being a fireman's wife. She has a lot of experience and knowledge to share with others about this topic, and it has helped her connect with others in similar situations.Think about the things you have experienced in life. This could be related to your family (example: a blog about being a stay at home mom), work (a blog about experiences dealing with clients), or other life experiences (a blog about dealing with a troubling time such as a disease or divorce, or about a happy time such as preparing for a wedding or a birth of a child).


A personal blog. A personal blog is a blog all about you. This will include a variety of topics, from things you do on a daily basis, to random thoughts and musings. This is a great way to share you thoughts with the world without having to stick to just one topic.

Pick a blog name. Choose something descriptive.
Step 2: Get your blog online

Now that you've got a name picked out it's time to get your blog online. This might sound hard or technical, but the steps below will walk you right through and make the process easy.

To get your blog up and running you need two things: blog hosting and blogging software. The good news is that these typically come packaged together.

A blog host is a company that stores all of the files for your blog and delivers them to the user when they type in your blog name. You must have a blog host in order to have a blog.

You also need to have the software to build your blog. In this guide I will be showing you how to build a blog using the WordPress blogging software, because it is the most popular, customizable, and easiest to use.

The blog host I recommend, and the one I show you how to use in this guide, is BlueHost. I personally use BlueHost and I recommend them for all new bloggers because:
They will register your blog name for you for free, making sure no one else can take it.
They offer a free, simple installation of the WordPress blogging software (which I show you how to use in this guide).
They have been recommended by WordPress since 2005 and currently host over 2 million blogs and websites.
They have helpful 24/7 customer service via phone or web chat.
They have a money-back guarantee if you are unsatisfied for any reason.
Use any BlueHost link on this site to make sure you get the special discount price of $2.75 per month.

Get your blog online. Register your blog and get hosting.
Step 3: Customize your blog
Logging in
If you are not already logged-in, go to Bluehost.com and click "Login" on the top right to bring up the login screen. You can then login using your domain name and the password you set in the previous step. If you have misplaced your password you can reset it by clicking the "Forgot Password" link.
Once you log-in you will be taken to your BlueHost Portal. From the portal you can click "Log in to WordPress" to be logged-in automatically to your blog.
Changing your blog design
Once you login you will be in the WordPress administrator area. This is where you can make any changes you want to your blog.
Everyone has a different idea of how they want their blog to look. One of the great things about a WordPress blog is that you can change your entire layout and design with just a few clicks.
In WordPress, blog layouts are known as "Themes". What is a blog theme? Themes control the entire design of your blog. To change your theme you are going to click on the "Appearance" tab on the left menu.
You will see several themes are already installed on your blog: Twenty Seventeen, Twenty Sixteen, etc. These are well-designed, clean-looking themes that can work for just about any type of blog. In fact, many of the world's top bloggers use one of these themes.
Unless you have a very specific design in mind for your blog, I suggest you use one of these themes to start with. For our example, let's use the "Twenty Sixteen" theme. In order to activate the theme on your blog, hover over the theme and click the "Activate" button. That's it! You have changed the entire design of your blog with just one click!
If you don't like any of the themes that are already installed you can easily choose from thousands of other free themes. To install a new theme, click on the "Appearance" tab on the left menu and then click "Add New Theme".
This is the theme search screen. There are thousands of themes to choose from. You can change your entire design at anytime simply by activating a new theme. To find a theme you like, I suggest you click on the "Popular" tab and start browsing. When you find one that you like click the blue "Install" button.
Once the theme is installed click "Activate" to activate the theme on your blog. To see your new theme in action, go to your blog and take a look!
Changing your theme is the simplest way to customize your blog, but there are lots of other customizations you can do. Check out my full post on customizing your blog for an in-depth step-by-step guide. You can also watch the video at the end of this guide to see me completely customize a blog from scratch.Customize your blog.
Choose a free template and tweak it.
Step 4: How to write a blog post & publish it

Now that your blog is up and running it's time to actually do some blogging!

Go to the left menu and click on "Posts".
You will see there is already a post there. This is a default post on every new WordPress blog, and we don't need it. To delete it click "Trash" just under the post.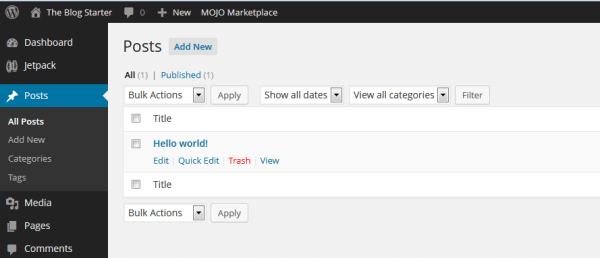 To begin writing a new post, click the "Add New" link.
You are now on the post editor screen. Enter the title of your post in the top box and then begin writing your post in the lower box.
If you would like to add a picture to your post, click on the "Add Image" icon and click "Upload" to upload a picture from your computer. You can make adjustments to the picture size on the next screen. When you are ready click "Insert into post" to add the picture.
Once you have finished your post just click the "Publish" button on the top right side of the screen to publish it.
Publishing Your Blog
Even after you have written a post your blog may still be showing a "Coming Soon" page.
When you are ready to make your blog public just click the "BlueHost" menu at the top left of the menu in your administrator area then click the blue "Launch" button to remove the "Coming Soon" page.
Congratulations! You now know how to start your own blog and publish content!

Write & publish your first post. The fun part!
Step 5: Promote your blog
Creating a well-designed blog and writing great content is just the start. In order to get readers for your blog you will need spend some time promoting it, especially when you first start. Click on the strategies below for more info.



Alert Your Inner Circle
The very first people who should become aware of your blog are your inner circle. This includes family, friends, and colleagues within your field. Encourage them to become followers, ask them to mention your new blog, and – most importantly – thank them.
Use Social Media
While you don't want to overdo it with social media accounts, you still want to create accounts with the "biggies". Create a Facebook page, Twitter account, Pinterest account, and Instagram account to start. You should post each new blog post on your social media accounts, but you can also post relevant news and links to other sources that your readers may find interesting. Don't forget to use hashtags and engage with your followers!
One of my favorite ways to get readers to my blog is to post links on my social media accounts like Facebook and Twitter. This is great, because not only do your friends see the link, but if your friends share the link with their friends it automatically multiplies your readers. If you have created high-quality content on your blog then social media is a great way for your blog to go viral.
Comment on Other Blogs
Find other blogs in your community and engage with them. Using the comment section, introduce yourself and leave engaging and constructive comments. Many will allow you to leave a link to your blog. After creating relationships with prominent bloggers in your community, you will find yourself within their ranks quickly.
Engage with Your Readers
When your readers leave comments on social media posts or on your blog, always engage with them. Reply to their comments and questions, give them "likes" and affirmations. When it is obvious that the author cares about his/her community and readership, visitors are naturally encouraged to return.
Collaborate
Become enmeshed in your blogging community by collaborating with respected members of your field. Collaborating includes guest posting, promoting each other's blogs and products, and regularly interacting through comments and social media.
Post Regularly
Post content regularly. Create an editorial calendar and stick to it. A good blogger posts at least once per. If you have long lapses between posts, your followers will drop off and your growth will be severely hampered. It's not easy to post on a schedule, but it's something you absolutely must stick to.
Create an Email List
In addition to getting new readers to your blog, you will also want to make sure your current readers are coming back. This is where email marketing plays a big role. By collecting the email addresses of your visitors (with their permission of course), you can then notify them when you post something new on your blog. This keeps people coming back to your blog, which not only gives you more readers over time, it also allows you to build a closer relationship with your visitors.
Email marketing is too big a topic to cover well here, so I created a separate guide to email marketing for those who are interested (hint: every blogger who wants more readers needs to read this guide).
Submit to Search Engines
You want search engines to include your blog in their search results as soon as possible.
Google: Sign up for a Google Webmaster account and open the Search Console. To add your blog, click "Add Property" and follow the steps to add your blog.
Bing: Sign up for a Bing Webmaster account and add your blog.
SEO
SEO (Search Engine Optimization) is the process of optimizing your blog to receive traffic from search engines like Google. Submitting your blog to search engines is the first step. However, keep in mind that with a brand new blog your search engine results are going to be minimal to start with. However, this will change over time as long as you continue to add informative and relevant content on a regular basis. The more you add, and the more time that goes by, the better your search engine results will become. And search engine results lead to traffic and a larger audience.
With regards to SEO, each blog post should include these fundamental elements:
Header Tags: Section headings and subheadings should be wrapped in header tags. To do this, click on the left item of the block you are writing in and change it to "Heading". You can then choose from H1, H2, H3, etc.

Categorization:
Search engines depend on hierarchy. Your posts should be clearly categorized into specific and relevant categories. In the post editor screen, click on "Document" on the right menu, and then go down to "Categories" and "Add New Category".

Permalinks: Each blog post "slug" is the end portion of the URL. You want to make sure each blog post has a defined slug and doesn't end with an article number. You can easily change this in your WordPress dashboard by going to "Settings" -> "Permalinks". Select the "Post Name" option and click "Save Changes"

There are many more factors relating to SEO, but these are the big ones that will help your blog appear in search engines sooner rather than later.
20 Blogging Tips For Successful Blog in 2020
1. Choosing A Right Niche
Some of the biggest mistakes, which we often make is thinking that only some niches work and others not. I would say that nothing is out there, which doesn't work. So, Choose only a niche in which your passion lies. A blogger only gets popular when he writes good depth quality content. Therefore, choose the topic, which captivates your heart. The words will flow automatically through your head, coated with abundant knowledge about the subject (your passion).
2. Niche-Building
Go out there and explore the current needs of the market. Look for loopholes in current situations like weight loss and anti-aging, or certain gaps in popular product lines. Only do not just focus on social networks like Facebook,Twitter or Pinterest. Go beyond a singular "high risk" platform to obtain more chances of succeeding.
3. Engagement with Your Audience
If you are writing anything, just for the heck of it, then you are at fault. Blogging is more of a live interacting medium between you and your readers. You should be expressed in your blogs. A famous writer creates an illusionary real and entertaining world, which hypnotizes the reader's soul and heart. Always remember, 'There is no bad, instead there is bad literature'. If you are creating a space in the hearts of your audience through you your words, then success is just a step away.



4. Read A Lot
Read a lot. "Whenever you read a good book, somewhere in a world, a door opens to allow more light", said; the popular name in the world of literature is convincingly true. Make sure to only read the quality stuff. Always remember the formula, 'You read excel-you write excellent'. Furthermore, reading the topics under your niche will reinforce your skills to become a terrific blogger. Well, depth and the intuitive article comes from your deep research and learning about a specific topic.



5. Never Plagiarize
Always be honest with yourself not to take any shortcuts by breaching the ethics of writing. Thinking of taking shortcuts just cuts the link between you and your dreams. Many newbie unskilled writers start blogging with the self-centered motive of making money online. Hardly knowing a tweak about the script, they just copy someone else's work and put them under their name. This bustle never lets them reach anywhere but to bring shame to them in the long run. Being honest is the key to triumph.



6. Strong Determination and Patience
You should be patient and determined to write. Never ever let yourself the victim of negative distractions. Initially, you may be criticized for some of your blogs. Never be the prey of your detractors. Stay put and motivated. Soon you will be driving on the road to victory. Push your limits to the extreme and that's how you become limitless.



7. Foster Authorship
Be the expert that everyone wanted. You can do so by building a professional website showcasing your "expertise." Build on trust and confidence. In the online world of business, trustworthiness and reliability go beyond any formal certification or degree.



8. Automate
Make use of new technologies. People look for convenience when shopping for products or goods online as well as in gathering solutions to their issues. There is a vast supply of online tools that you can use to aid in this need. Website forums, automated order, and delivery protocols secured yet user-friendly payment system, and other customized solution will help generate revenue for your business 24/7 year-round.



9. Outsource
Outsourcing is one key element in a cost-efficient online business. Tap virtual assistants online. Sites like iWriter or odeskwork or upwork.com are great sources of staff with specialized skills in accounting, database management, Webhosting, article writing, and so on. Try to delegate ministerial functions while you concentrate on the core competencies of your business.



10. Connect and Link
Reach out and foster a connection with your online audience. Hear out their sentiments in building much credible content for your website. Product reviews, blog comments, discussion boards, testimonials and case studies are great sources of information for you to bank on.



11. Scalability
Adapt successfully to increasing demands. Finding a lucrative niche, build your authorship around it and infuse this with a proactive system via automation. Make use of customer feedback to create successful promotion tactics and achieve sure success.



12. Finding Sustainable Means
Look for a sustainable way to earn money. Do not rely on a single productivity scheme. Look for ways that will generate recurring revenues for your business. Make use of renewable subscriptions and other sustainable point-of-sales. Develop a stable and enduring customer base via sustainable efforts like newsletters, advice or support.



13. Getting To Know Your Community
So I guess you are ready for some strategies? Well. here we go. I think one of the basic strategies for blogging is to follow other bloggers and get a feel for what it is like to blog. I follow several blogs and each has its very own unique style and information. SEOMoz is my favorite for search engine optimization information and learning some of the latest skills. My other is Problogger with Darren Rowse. This guy knows his stuff!

Follow and connect with blogs that have to do with your specific niche. If you are a photographer and are trying to figure out where to start, look at other photo blogs. If you are into sports, the outdoors or even the theater, search out those in your specific niche and see what they are doing effectively.



14. Content Creation
Becoming a content creating a monster is your objective. For any beginner to online marketing and especially blogging, there is no real way to get around the effort and time it takes to be successful here. Many do look for quick fixes to content creation, but if you look around…you will not find them and if you do, it will not be for long.

You have to learn how to create content and not only words and links slapped on a post, but content that matters. Content that matters is search engine friendly and people-friendly. Without solid quality content, why would I subscribe to YOU?

One important part about the learning curve is that it is not all that time consuming or difficult. Also, once you begin to learn, APPLY! This is the one tip that leads to success almost every time. Most will quit before they even begin, but you will stay your course and follow-through, this is success online for the beginner.



15. The Social Connection
Today more than ever, and it will continually grow, social metrics are playing a role in your visibility online. Most everyone today, even beginners to blogging, has been micro blogging for some time now. Think about it, Twitter, Facebook and the ever-growing Google items you have already been blogging.

Your blogging efforts need to be shared and you need to be a part of that community actively. Now I do not mean herding cats on Facebook, in fact I am not a fan of Facebook. What I mean to say here, is that we need to be actively posting our content to our social sites and proactively sharing them in a NICE WAY.

Blogs are the largest and most effective social media platforms online, still. We should however, make sure we include other social media platforms beyond the likes of Facebook and into social bookmarking. Simple bookmarking strategies, although overrated as far as link juice is concerned, are still vital to spreading the news about your blog and brand for that matter.



16. Write for Readers
Google is the number one search engine so everyone always tries to impress Google, but they never think that their readers read their blog, not by Google, Google is the only way to get some readers, but if you write for your readers, you will find better results from Google search. Google loves those blogs who love their readers, so write for your readers, not for anyone else, and just make sure you are writing what your users want from you, you can solve their queries regarding their problems and suggestions.



17. Show Your Passion
Never choose your blog niche without any research; if you will land in the wrong niche then you will face many problems in the future, the most important rule to start a blog, "Select Niche by your Passion". If you select a niche because your friend is earning from that, so you are wrong that is your friend's passion and he is doing well in that, find your passion and start a blog on that.


18. Do Research before Writing
Most of the bloggers just start writing without any research or concepts, newbies think that number of post matters in blogging, but the truth is quality matters numbers does not matter, you can get huge traffic from one post if you write well.

Always choose your post wisely to get the benefits of uniqueness, if you write the same post which has been already published somewhere then you will not get anything.



19. Invite Guest Authors
Your blog is your community, so invite people to be a part of your blog and write posts for other blogs. Always try to make your blog more engaging; you can create a write for us page to get attention or to invite your readers. If you are managing email list then you can shoot an email to all your readers so they can be a part of your blog as a contributor.


20. Take part in Discussions
When you read or write a good post you will see lots of comments and suggestions, that is the magic of blogging when you interact with other bloggers in the comment section of your blog or in others blog then you build a relationship with other bloggers, which gives you positive results for you and your blog.

These are the most common and important things which you need to learn or apply to your blog, blogging is an ongoing process so you need to implement these tips every time no matter you are new or pro blogger.

Following and finding favorite blogs is a great way to not only see what others are doing technically, but also see how they are truly connecting with their traffic and or, subscribers.

Let us know what do you think about this Blogging Tips for Beginners Guide