List Of The Best Anti Malware Removal Tools 2020 For Windows - As the name suggests, Spyware is a malware intended to spy on you. The malware secretly gathers information on an unsuspecting user by hiding in the background and taking notes of the user's online activity. Often a collection of software tools, Rootkit gives someone with ill-intentions remote access and control over a system such as a computer.
While it isn't always malicious, Adware can undermine your system's security in a bid to serve your ads and in doing so, it can allow a lot of the other malware to make their way into your system. Malicious software that encrypts the files on your hard drive and then demands a ransom for them is referred to as Ransomware.
Botnets are a network of infected computers that work together under the control of an attacker to compromise the security of a system and cause damage to it. Used to secretly deliver malware to the computer of unsuspecting users, Malvertising involves the use of legitimate ads or ad networks to spread malware.
What is Malware (Computer virus)?
Malware, or malicious software, is any program or file that is harmful for a computer user, Malware authors use a variety of physical and virtual means to spread malware that can infect your devices and networks. Types of malware can include Computer viruses, worms, Trojan horses, and spyware. These malicious programs can perform a variety of different functions such as stealing, encrypting or deleting sensitive data, altering or highjacking core computing functions and monitoring users computer activity without their knowledge.
List Of The Best Malware Removal Tools 2020
Listed below are the top Malware Removal Software.
While the above infographic shows the most popular Anti-Malware Software based on numbers, it is not a full and final representation of the best Malware Removal tools out there.
While the different anti-malware software programs represented in the infographic have a massive number of people searching for them, and it does not mean that they all are the best malware removal software available today.
While some of the anti-malware software in the infographic may make the list of the best anti-malware solutions, and the others may not.
Sucuri
AVG
Malwarebytes
Norton Power Eraser
Avast Internet Security
Bitdefender Antivirus
HitmanPro
Emsisoft
Trend Micro
Comodo
Microsoft Malicious Software Removal ToolThe purpose of anti-virus software is to provide protection. This software program is used to prevent virus-laden files from being download onto your system. Additionally, it works to prevent the virus from activating in case if somehow it makes its way to your system.
On the other hand, anti-malware software, which is also known as a malware removal tool, is slightly different in how it works. While anti-virus software is all about prevention, anti-malware software looks to root out and destroy the malware that is already downloaded and activated on a system.
While there are a lot of similarities between the two types of software, it is recommended that you use both to maximize protection.
Best Anti-Malware tools: Malware Removal Tools
1. Malwarebytes Anti-Malware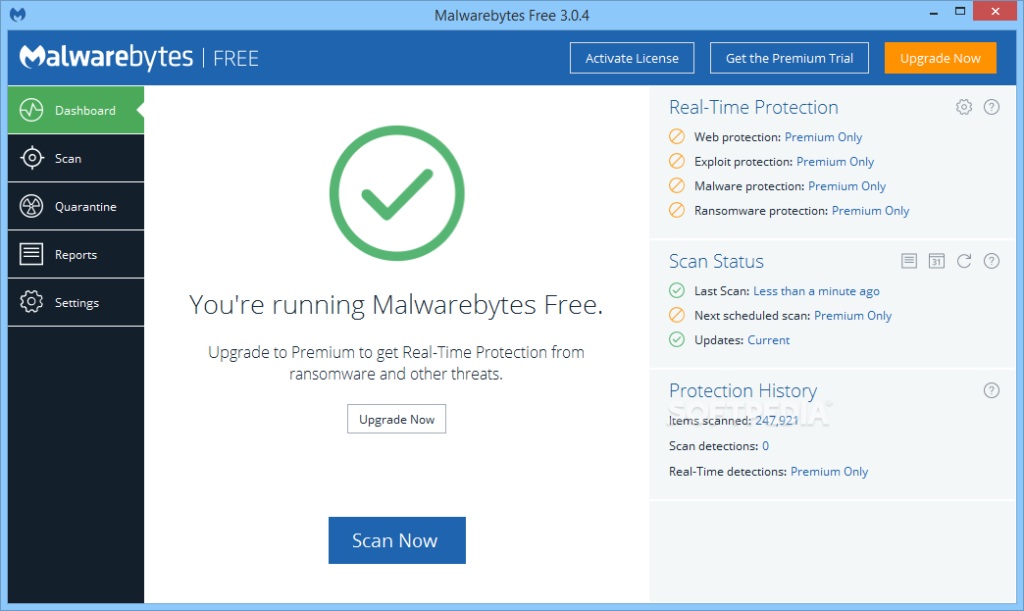 Pros
Works in addition to the antivirus software

Detects ransomware and adware
Cons
Some other security apps might clash with it

After trial version expires, no on-demand scans
Summary
One of the promptest malware removal tools would be Malwarebytes. It's an excellent and free tool that you can use to remove almost all the malware that you might have on your system. Once you get the application, there is a 14-day trial period to avail of all the unlocked features.
Also, the Malwarebytes malware removal tool comes handy when there might be incoming malware that you might be downloading or installing. The tool is updated regularly and keep providing updates about the various malware that might be swarming in your windows system.
2. Bitdefender Antivirus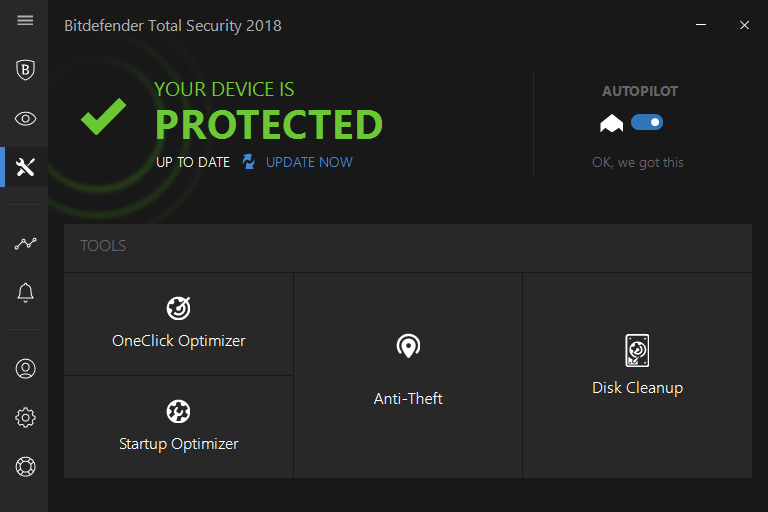 Pros
Interactive User Interface

Very easy to use

Simple design
Cons
Summary:
While other malware protection tools given here give you notifications of the malware that are found in the system, Bitdefender antivirus malware removal tool helps in protecting the system form the oncoming malware that might infiltrate your system.
It's a powerful antimalware tool that helps in taking care of all the viruses that might be on your system and oncoming ones. The overall tool has a plethora of features and options that you can choose from. But the free version doesn't satisfy all your needs for antivirus software. The paid version does help by manifolds.
This is one of the best malware removal tools for Windows. It is simple and easy to use and doesn't have any hassle. It does not ask any questions after being downloaded. It just gets to the job of monitoring the PC and identifying threats.
It is an all-rounder as it detects not an only viruses but programs behaving weirdly. All in all, it is an all-rounding tool. Bitdefender has been on the market for quite some time now and is a trustworthy program.
3. Adaware Antivirus Free
Pros
Protects even from new malware

Database keeps updating

Can be suspended temporarily
Cons
Not always effective

Poor results

Web filtering absent
Summary:
If you are looking for the best windows and mac malware scanner, then adaware is one tool that you have to check out. It provides a customized malware scanning tool such that you can scan in the critical places where you are sure of finding malware.
Also, the tools scan the system periodically, such that there is no onboarding of malware whatsoever. But then the process of installing the application is quite long and extensive. But it's no deal-breaker as it gets the job done no matter what.
The overall malware scanning process is straightforward without any interruptions. Scanning your system for malware has never been easier.
Adaware is a great malware removal tool. It goes on to build a new way to fight the malware after going through its base log files. It means you can be protected from ransomware of different kinds, even if you are the first one to be attacked by it.
While it has noticeable advantages, there are certain disadvantages as well. It is not found to be effective all the time. Also, there is no web filtering provided. This means there is no way to block unwanted apps. This is not one of the best malware removal tools.
4. Spybot Search and Destroy
Pros
Very effective

Added functionalities
Cons
Difficult to use for some
Summary
One of the best malware removal tools for Windows is the Spybot Search and Destroy. What makes it the best pick in the market is its ability to provide for a lot more functionalities other than malware detection and removal.
It provides hosts-file modification, botnet scanner, dummy code feature, secure file shredder, among the usual feature of malware detection and removal. All in all, this is a very good malware removal tool.
5. ComboFix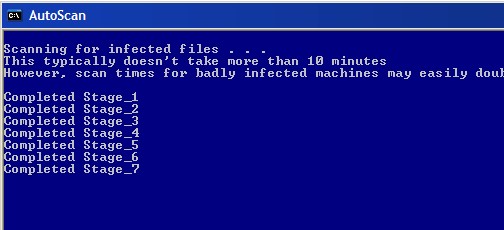 Pros
Detailed research

Goes deep inside the system

Provides a detailed report
Cons
Summary
ComboFix, once downloaded, takes care of the rest on your Windows PC. It gets down to the system and accesses logs of files to make sure they are safe and sound. It involves around 40+ stages on the scanning front.
It is a bit difficult to use because of its way too technical look and feels. It is not the best in the User Interface. Hence some might find it difficult to understand. But it gets the job done in the most elaborate and effective manner.
6. Emsisoft Emergency Kit
Pros
Portable

Command Prompt operational functions
Cons
Not fully effective always

Slow updates
Summary
Often, malware can be of many types and variety. Few might not allow you to download anything from the interest while others might not even let you start the system. Hence if you are looking for a free malware removal mac and windows, then this antivirus tool is the best for you.
It provides a plethora of features and options such as emergency protection and smart scanning features to target that pesky malware that might be stuck in the deepest corners of your system. But then with all-pros, there are some cons as well.
If you are planning to use the application in daily usage, then it wouldn't be of any use as it doesn't do a great job of notifying you regularly about the malware that you might have on board. Also, the full features of what an antimalware tool should have been absent.
What makes Emsisoft Emergency Kit one of the best malware removal tools for Windows is the fact that it is portable. You can easily go for a pen drive or a USB stick to download the portable version of this software and install it in different machines.
Emsisoft maintains a database of all the threats you are currently facing or the vulnerabilities of the system. It also comes with various updates to improve the database and protect your system.
7. Super AntiSpyware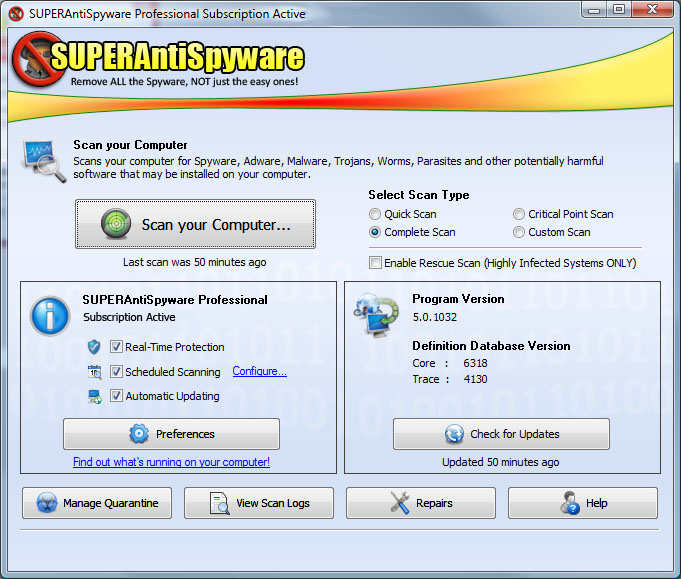 Pros
Very effective

Keeps a constant eye on the system.

Easy to use
Cons
Less features in free version

Might slow down the system

Unattractive user interface
Summary
The antivirus tool is one of the best malware removal tools for mac and windows. Its puts virus and malware scanning in the forefront of anything else. But with the application is free of cost, you wouldn't be able to take the full advantage of the tool and would want to opt for the paid version.
The scans that take place are automatic are a regular interval of time and helps in regulating the viruses or malware that might have entered your system. Also, you can adjust or customize your scans based on your preferences. And can have a hands-on approach on all the things done by the antimalware application.
Super AntiSpyware is available both as a freeware and a paid software. Also it is important to note that there are a lot less features in the free version of the software. Basic on-demand scanning and malware removal are the only two functions provided in the free version.
Types of Malware
Trojan horse code:-
It is among the easiest to execute and most commonly known malware. Trojan horse code gains entry into the target while disguised as a necessary download or update. It then captures, modifies or destroys the intended data – like system passwords.
Spyware:-
These codes get into the host system for spying on the user's computer or web activity. It can be used for business by spying on their competitors, also for political opponents or employers to monitor their employee's computer activity.



Ransomware:-
Intended to gain access to sensitive data which cyber-criminals demand payment not to publish or to destroy if not paid a ransom for the data.
Adware:-


Disguised in the form of annoying advertisement pop-ups that the computer user needs to click to get rid of them. Often redirects the user into more clicking to get rid of the repetitive pop-ups.



Botnets:-
Intended to corrupt a network of machines globally or in an intended target organization to perform a number of functions such as steal data or block certain keywords/articles/content from being visible on search engines.



Wiper malware:-
It is intended to delete or completely wipe out the intended target's sensitive data so that the user cannot gain access.

Other malware/codes include computer worms, scareware, cryptocurrency mining malware, and computer viruses.